Stacy Robertson
Executive Director, Business Services
Sandy Sanchez
Fiscal Services Coordinator
Amber Gonzalez
Administrative Assistant, Business Services
Jessica Kaff
Account Clerk, Payables and Receivables
Robin Brown
Payroll and Benefits Technician
Wendy Hernandez
Payroll and Benefits Technician

WELCOME TO BUSINESS SERVICES
PAYROLL REQUESTS/QUESTIONS/CONCERNS
EMPLOYEE SELF SERVICE SITE
Contact the payroll department at payroll@standardschools.net for assistance.
View, download and print paystubs

View, download and print W2's and 1095-C's

Update your mailing address

Update your direct deposit information
Employee Please use the following link to access the district's homepage. https://ess.kern.org/73
To get started, please register by clicking on the register button on the left hand side menu. When you go to login please ensure you have selected 'staff' from the user type drop down.

You will receive an email with a link to follow to complete the registration process.

Click the link in the confirmation email and complete the instructions (your employee number can be found on your previous paycheck stub under Emp Reference Num):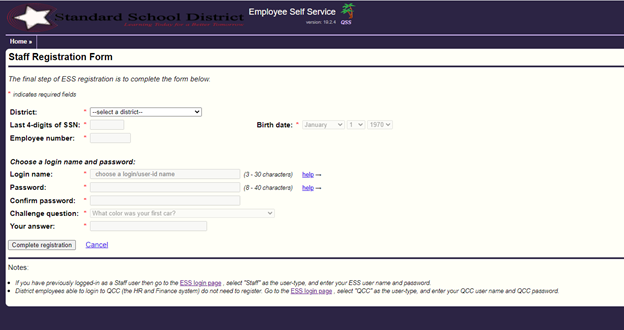 OTHER BUSINESS DEPARTMENT LINKS
The Standard School District, having passed Measure "D" to improve the quality of education within the district, must have an annual bond audit for the use of said general obligation bonds. The attached audits are in compliance with the requirements of the passage of a Proposition 39 bond.